The MacBook Air is a great computer due to its slim form factor (it's thin!) and its super light weight. The current 13″ model weighs in at just under 3lbs. What a great little computer. The only issue is the small hard drive. It's so easy to buy a machine with only 128GB of hard drive space and use it up within a month. So what do you do? Virtua Computers has the answer.

If you have a 13″ MacBook Air, or an 11″ MacBook Air – you can get the OWC Aura drive. With a 480GB and a 1TB model, for the 2013-current model, this tiny chip board holds a punch! OWC provides you the tools to make the switch from your old hard drive to the new one.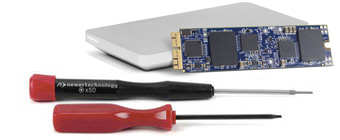 We actually just installed five of these drives in MacBook Airs that came with the wrong hard drive. The swap is easy. Open the bottom of your MacBook Air, unscrew the hard drive, put the new one in and close it up. That's it! With the enclosure from OWC that you can put your old hard drive into, it's an super easy way to transfer your files to your knew enhanced, larger drive. In our testing we have found the OWC drives to be faster than the stock hard drives from Apple.
Not feeling comfortable opening up your computer? Have no fear. You can pick up a Nifty drive for any computer that has a SD card slot (sorry 11″ MacBook Air). The Nifty drive will actually hold a MicroSD card and slip into the SD slot. The result will be a flush, clean look and a second drive on your computer.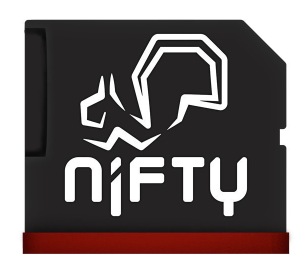 Using the Nifty, you can set up a time machine drive to backup your data if you wanted to. It's a great little solution for people on the go. While a 512GB micro SD card will set you back a few dollars, this is a great way to increase storage without opening your computer.
Need help getting these new hard drives up and running? Contact us for help!