Usually, I'm all for warnings when it comes to your computer. Then warn you of when you can do potential danger. "Are you sure you want to empty your trash?" "Using root user grants power, do you want to do that?" These are all necessary warnings. I have found in macOS Sierra that there is a special warning that doesn't cause damage, and is annoying. The removal of a file from your iCloud Drive.

As of macOS 12, Apple has included iCloud Drive. With iCloud Drive your Desktop and Documents folders, as well as your Keynote files, Numbers files, and Pages files amongst more, will sync between all your devices. You can start writing a document on your desktop, only to pick it up from your iPad. Convenient if you are on the go. Great if you are doing presentations. Awesome for the business class traveler. But yet still there is this one annoyance!
If you have a file on your Desktop and you want to move it to your Dropbox folder, you will see with this warning: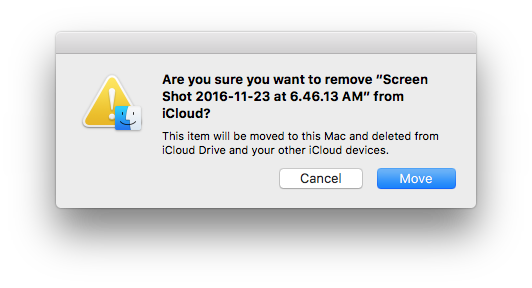 How annoying is this!
This warning comes up on my computer so much as I'm always saving work things on my desktop before moving them to Dropbox. Luckily for you and me there is a fix. You can disable that notification. Here's how:
1. Choose Finder Menu Item.
2. Choose Finder Preferences.
3. Click Advanced.
4. Uncheck Show warning before removing from iCloud Drive.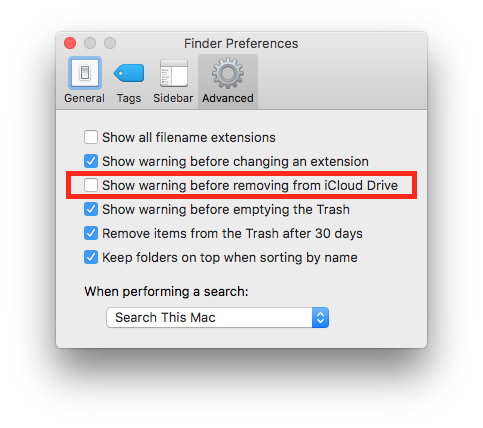 Turning off this one option makes life so much easier. Now I can drag and drop between my desktop and my Dropbox without stopping for a warning.
Have any other awesome tips and tricks to share with Virtua? Drop us a line and let us know. And as always, Virtua Computers is here for you, even if it's just turning off this little pop-up.